Rapid stocktaking of huge warehouses with granted correctness. No need to stop work.
A physical inventory…
Every logistician's nightmare.
Stock quantities are printed out and given out to inventory custodians. They check real stock quantities against the ones on paper, fill in the "actual quantity" column, and return the papers to their supervisors.
The supervisors re-check items that have large deviations. Confirmed errors are corrected according to real numbers by entering goods receipt / issue documents with a "physical count" note into dia$par.
No brainer, the process is slow.
E.g., in Ulmart, the complete annual inventory count at their Moscow region warehouse hub (> 20,000 sq. m., ≈100,000 SKUs, ≈1 mln units of storage) took 48 hours and efforts of all shifts — and that was only the counting proper.
While this was going on, the warehouse, of course, could not be operational, so the annual inventory counting procedure could only be done during the long New Year holidays.
Despite these monumental efforts, however, results of the count didn't inspire full confidence: often, warehouse personnel were confused as to what they had counted and what they hadn't.
Lots of errors were made transferring data into the system from paper: this manual data input alone required up to three working days (after the 48 hours for the physical count), while the warehouse was in operation again, generating new errors over the same stock.
In view of these external restrictions, the process was always going on under harsh time deficit. So it's only natural, that speed was a priority over quality.
Sounds familiar?
That is how we have fixed it.
First, we introduced a consolidated physical inventory document into dia$par. It contained data from the three counts (two consecutive and one test count), as well as a general control and management panel.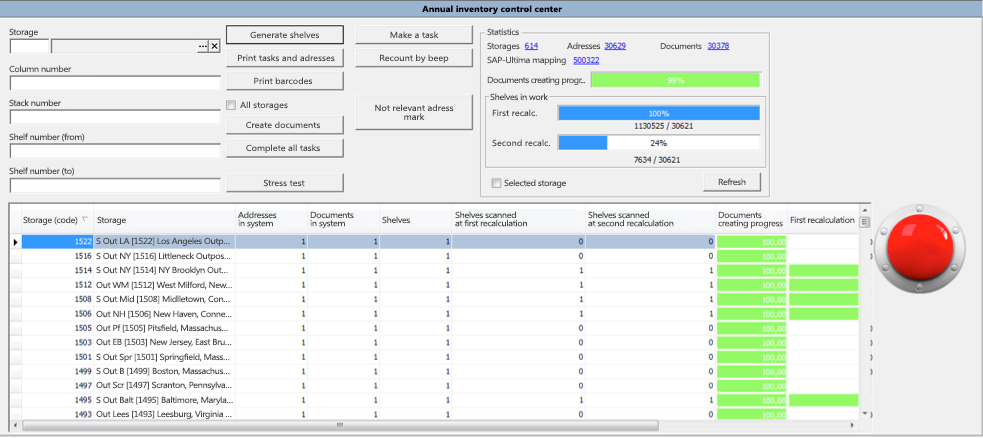 Second, counting with eyes, hands and paper was discontinued in favor of semi-automatic counting using barcodes with portable data terminals.
This is how the process looks like now: a warehouse employee picks everything he sees as he's walking by.
It's that simple.

After all products within the area of responsibility have been picked, a warehouse employee runs the "Complete count" command on his PDA.
If that was the first count, then dia$par waits for the second one.
If that was the second count, then dia$par generates the task for a test count of items where there were any issues, which can be done manually.
Authorized personnel may observe the counting process, intermediate results and forecast of its completion online through the main form.
After all counts have been completed, the Grand Inquisitor person in charge of the physical inventory (in Ulmart — the head of the warehouse section, in smaller companies — the head of the warehouse or the business owner) presses the Big Red Button, and dia$par automatically generates receipt /issue documents.
All it takes is about a minute — instead of three working days in the previous case.
While elaborating implementation of the scheme, we took into account legal requirements for physical inventory count documents, as well as methodology standards for such inventory counts (collecting signatures of authorized personnel, appearance of printed forms, etc.).
The slides: physical inventory as seen by a warehouse employee (screenshots from his PDA):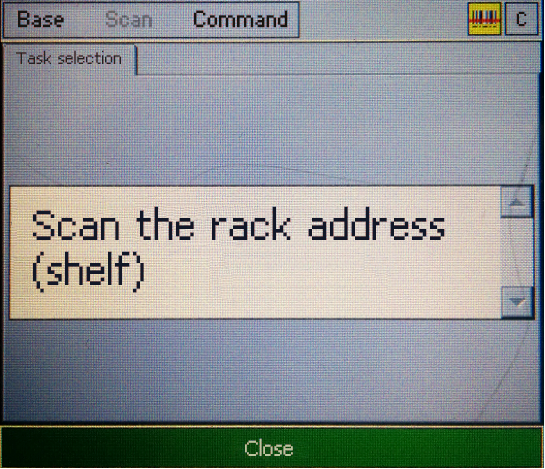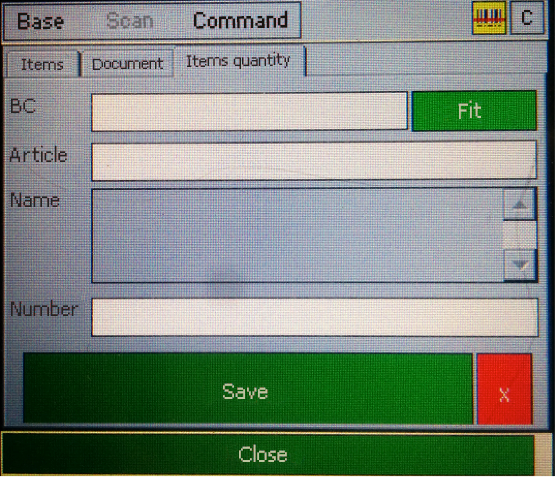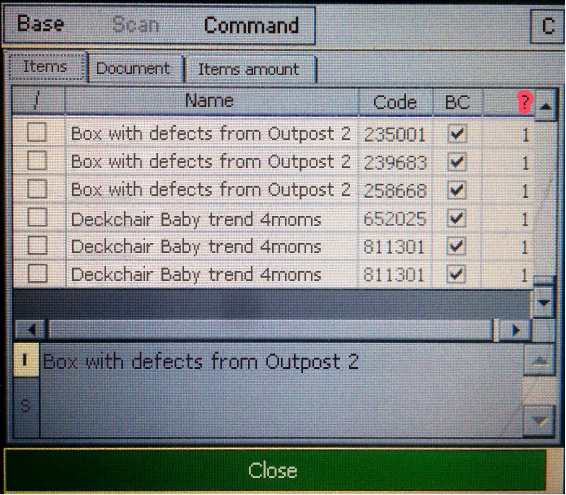 The results.
For the first time, a complete physical inventory new-style was held in January 2014.
The whole process took 24 hours. With the double (and where needed, an additional test) count and finalization of results.
With valid results, guaranteed by the process.
Done across all warehouses in a centralized and simultaneous way, though Ulmart has several warehouse hubs with the abovementioned parameters.
And dozens of smaller warehouses.
Now, a flexible inventory (in case something's missing).
Today there is no need running and jumping, signaling with their voice pitch and height of jumps how awful the problem is.
The person who failed to find a product, simply presses the "I can't find it" button on his PDA. The supervisor in charge gets an alarm in his interface and confirms the task for counting this item pressing the button. During the process, dia$par takes into account products that haven't been shipped off and are located in batched orders, at pickup points, or in transit within the warehouse.
So, whether we are alone in the Universe or not remains a big scientific question.
However, the logistic science fiction becomes reality right in front of our eyes!
The iron stallion takes over the peasant's horse.