The troublesome warranty processing is largely offloaded onto the customers. The latter are happy with it, and the profitless load on your front office employees decreases by one-third.
We have already discussed the sensitive issue of warranty service. Back then we just talked about building business processes and records from scratch and bonuses that follow immediately (to a large extent this is due to the low base effect with regard to the previous state of absolute chaos).
OK, so we have set up the work processes and steadied the ship, accounting and control are ok as well. What next?
You could leave it at that. Having a real control and accounting system within the warranty block of the company's business processes (although in order to be called "the business processes" they have to be standardized), you are light years ahead of 90% of competitors on your market, who are still stuck in a hopeless void of chaos.
However, having embraced the Kaizen ideology, within less than three years Partsdirect.ru, achieved the position of not just being number one on the market, but a dominant player, and they are still not ready to rest. And they do have our full support at that, it must be said. A toast, ladies and gentlemen!
So, what did the guys from Partsdirect.ru come up with? They studied the process of warranty claim handling from the customer point of view (which is a very right position to look at all aspects of a front office operation) and realized that it was much too stressful for a customer. First, they have to call and make inquires: how it's all done, when they bring their device, how it's handled, how much time repairs take, whether they'll accept it, etc. Then the customer's expeditor brings the device, waits in a line, then at the Help Desk it turns out, that some cases are warranted and some are not, supporting documentation might be missing, and if something is not clear, the expeditor has to call the office. Then there are calls to check whether the equipment has been repaired and when it can be picked up. And when it's all over, the customer has to send their driver to pick up the repaired or replaced device.
Now, the "afterwards" picture. A customer goes online to fill out a warranty claim in their personal account at the Partsdirect.ru website. They fill in required data like problem description, serial number, etc., and attach a photo of their device. The claim is queued in dia$par waiting list for the warranty clerk to handle.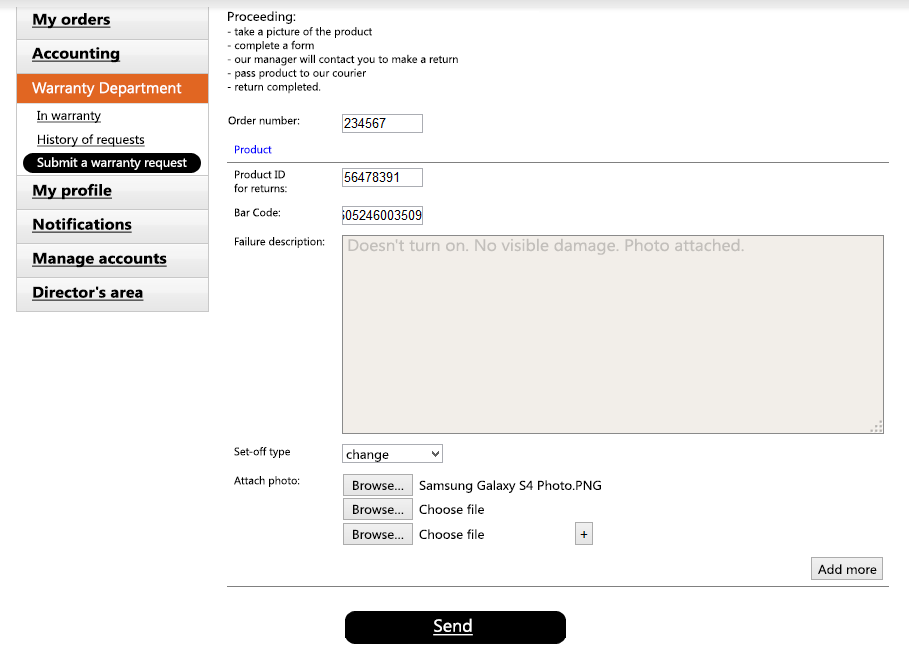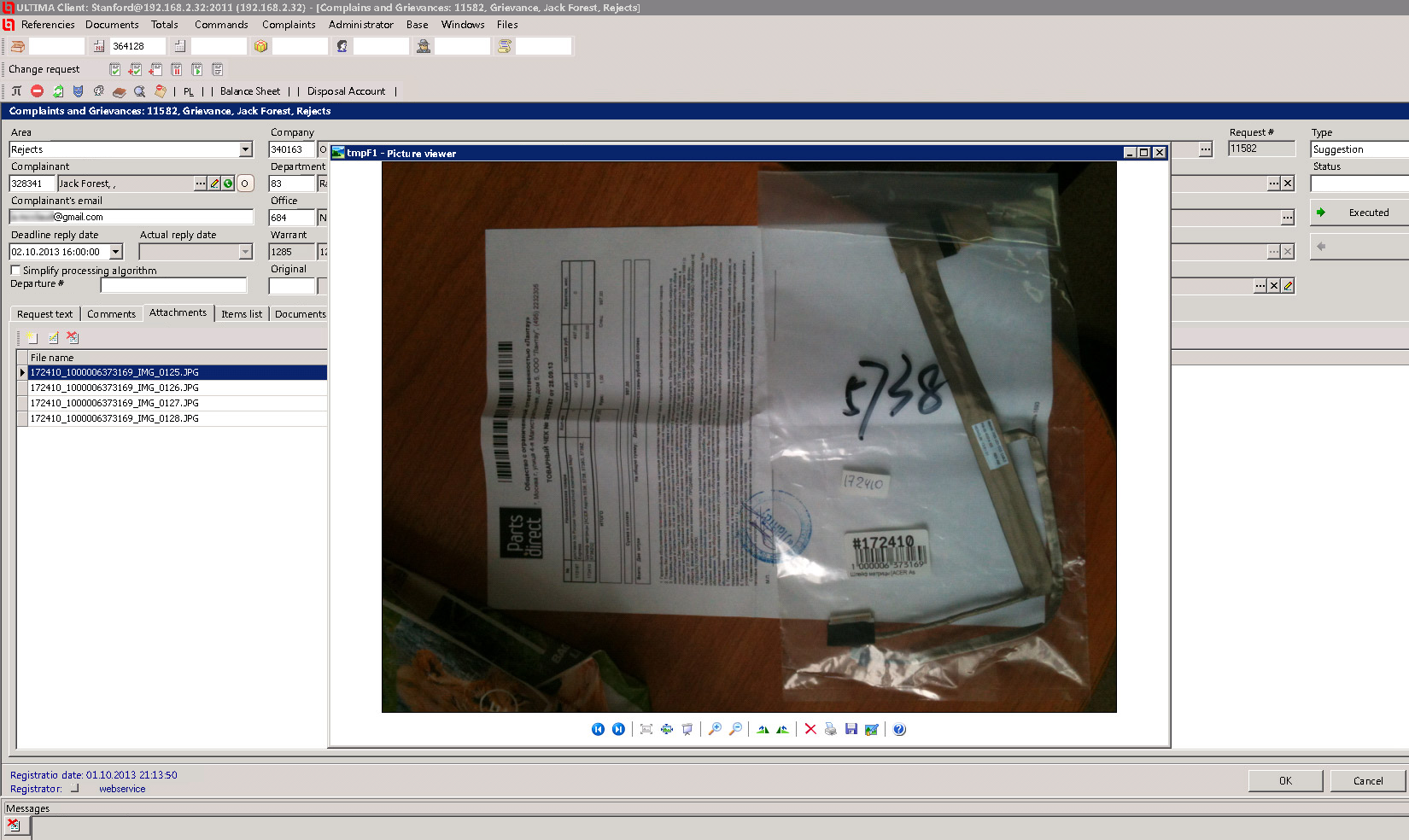 If the claim is compiled correctly and the photos show, that it is indeed a warranty case, then the warranty clerk just clicks OK, automatically assigning a courier to replace parts or reimburse money. The courier then prints out all the paperwork, receives the reimbursement money at the cashier's desk or replacement parts at the warehouse, and brings them straight to an office or a production facility of the happy customer, as well as picks up the defective products.

Presto!
The market reward for this small, but yet another sure step towards operational efficiency is as follows:
increase in customer loyalty due to this real service level growth (as opposed to a common practice of paying lip service to customer care with a your-call-is-very-important-to-us twaddle) and positive feedback, that resulted in a true five-star Google Shopping rating (unlike the majority of the five stars) and a growth of conversion by 7%;
a 28% decrease in communication load on the front office (call center, sales, warranty) staff, correspondingly freeing up personnel.
As they say, I like u do it, do it.