There are basically no questions about cross-selling in off-line stores. When it comes to online orders with delivery all the manipulations must be done BEFORE dispatching the order within the general business logic of picking and packing.
Big money is earned on cheap things.
Like any other electronics trader, Just.ru needs to maximize the sales of cheap but highly marginal related goods (accessories) and services.
Sticking on screen protector films, checks for bad pixels, installation and setup — all these earn your living, rather than selling popular gadgets at a planned loss.
At an offline store, the provision of related services causes no questions: you get your item, go to the respective counter and get fully satisfied.
But when you buy online and order delivery via a website, it's a different thing: all the additional manipulations with the goods must be done BEFORE shipment and without the customer's presence, so they should be inscribed into the overall order assembly and packing business logic.
In the orders containing additional services, dia$par will automatically single out goods for additional processing and generate their internal movement from the assembly warehouse to the test bed.
The same test bed is used by the warranty department.

In dia$par, the order is moved into the Testing stage to avoid the premature start of assembly at the warehouse. This is a precaution: for example, if the testing finds bad pixels on a notebook PC's screen and it is the last item of this model in stock, they will have to contact the customer and agree on a different order contents.
The testers will see their assignment in the interface and make the required manipulations with the item (e.g. stick a screen protector on).
Then a service provision report is printed out and attached to the item, and the testers click on a button to generate the Testing to Warehouse movement.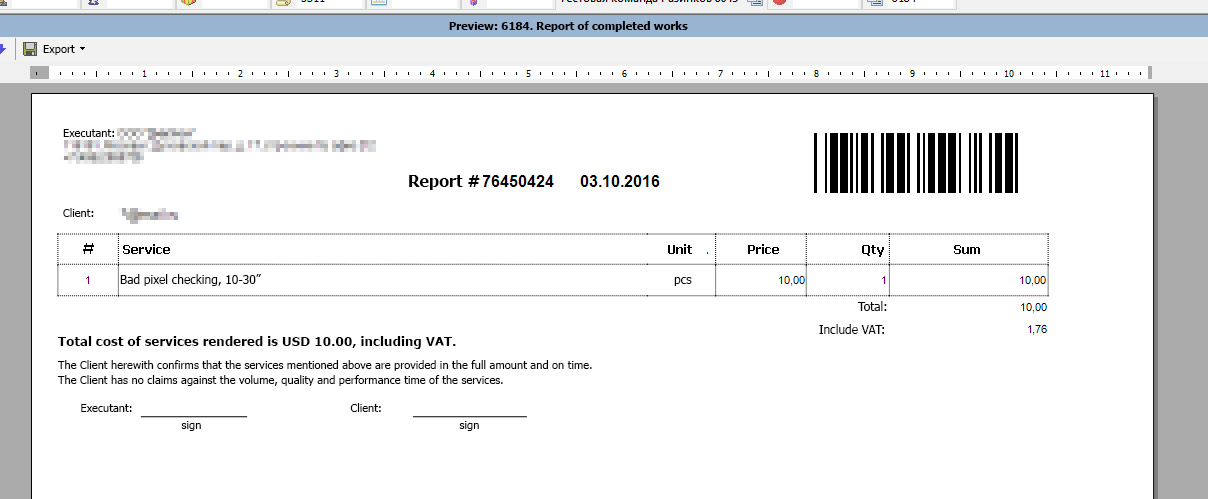 In dia$par, the order document moves to the Tested stage.
The item returned from testing (physically it is a cart that is rolled from the testers" nook into the main warehouse) is offloaded into a dedicated warehouse bin for tested goods.
Simultaneously, dia$par auto-advances the order into the Cleared for Assembly stage, and the warehouse assignment generation script is run.
In the common flow of the waybills for shipment, the warehouse man will see on his mobile terminal, that some of the goods ordered are in the Tested section and collect them from there by beeping on the bar code in the Service Provision Report.
Notably, as the parallel threads of the shipment business process are well coordinated, the cost of the execution of the additional services is close to zero; there are no dedicated employees, and all is done by the warranty personnel during their idle time.