Just start working well. Don't be foolish. And the rest will follow unto you.
We've discussed on labor feat transit to dia$par in i-Zet company (and it's fabulous results) previously.
Our decent fairy tale went forward quite typically: i-Zet lived happily ever after and moreover got PROFIT!
The company was noticed, so they started receiving offers from the big (and not very big) boys calling them for setting co-operatives to make even greater profits.
For example, from Media Markt.
Therefore i-Zety guys got place in Media Markt shops under the sign "Powerful Service" — installation of antivirus software, archiving utility, codec and rendering of other quite marginal services. Media Markt undertook all marketing activities, but in return they needed high performers. Not to rain on their parade. Not a single raindrop.
Now then, i-Zet has come in Media Markt. Business-processes were organized up to par, which enthused exacting Alemanni ("Quadratisch, praktisch, gut!"): at the counter there were only two persons standing, of gadgetry there were only a NumPad (small numeric keypad) and a bar code scanner.
Customer's phone number and product serial number should be entered into dia$par. After service is payed by customer (at the checkout) ,engineer starts his work on system signal. Then engineer reports on work already started to dia$par with a beeping barcode of device in process. And dia$par automatically sends SMS-notifications like "The work is started" to customer's phone.
When the work on this order is over, engineer scans bar code of the device again, dia$par comprehends that the order is complete, SMS informs customer about this all-praised occasion, the aforesaid customer in their turn comes and takes the upgraded device.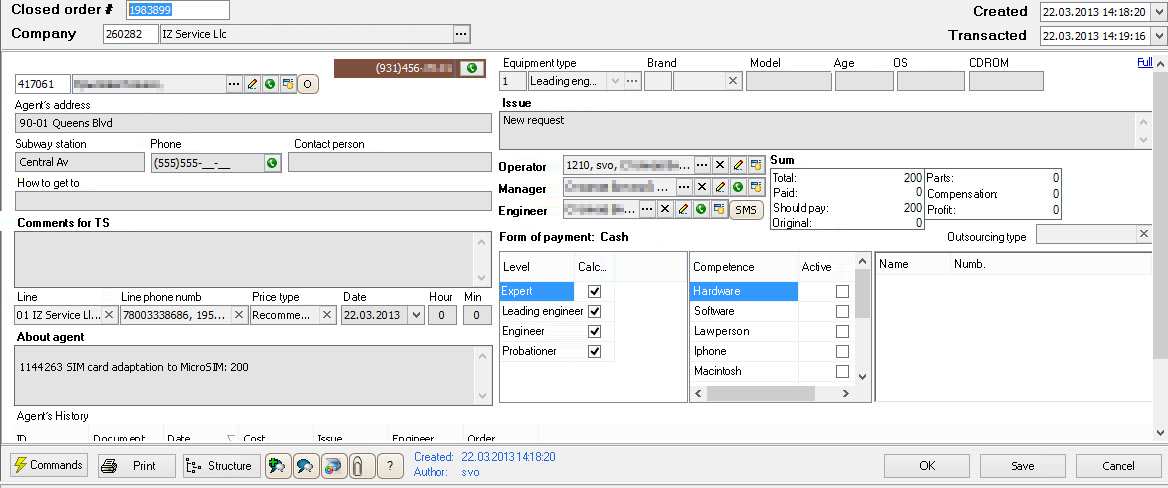 Here business cycle is over, profit from the order is recorded.
"The ingenious is always simple". Next!
Automatic bilateral settlement maintenance for completed orders was certainly introduced into functionality of business cooperation between i-Zet and Media Markt.
Nowadays unfortunately — much to i-Zet regret — all this splendour is gone. Media Markt was so pleased by the way in which the plan was successful (every way), that now Media Markt does everything on their own — what's the big idea of breaking bread? That is the meaning of the competitive market: if you do not own any of firmly fixed distinguishing attributes, be ready to find out, that your technologies are copied and — hasta la vista, baby! — you are blended in with a crowd again.
Should be no surprise that according to quality control department of Yandex the honored user of dia$par — repeatedly mentioned in the pages of this site company "Ruki-iz-plech" (Handy men) — has become an exemplary contractor.
And you can have it just as well as that.