The Generator company is engaged in outsourcing of complex financial and accounting services for a wide range of medium-sized companies.
It is clear that this kind of business has no room for mistake.
As a part of stepwise standardization of business processes, and increasing the verbosity of digital twin, all business processes of the company were covered by dia$par integration tests.
Totally.
Each night, respective robot runs all the tests, producing a monstrous pdf-file (more than 700 pages of text and diagrams) with a complete and up-to-date description of the current state of the company's business processes.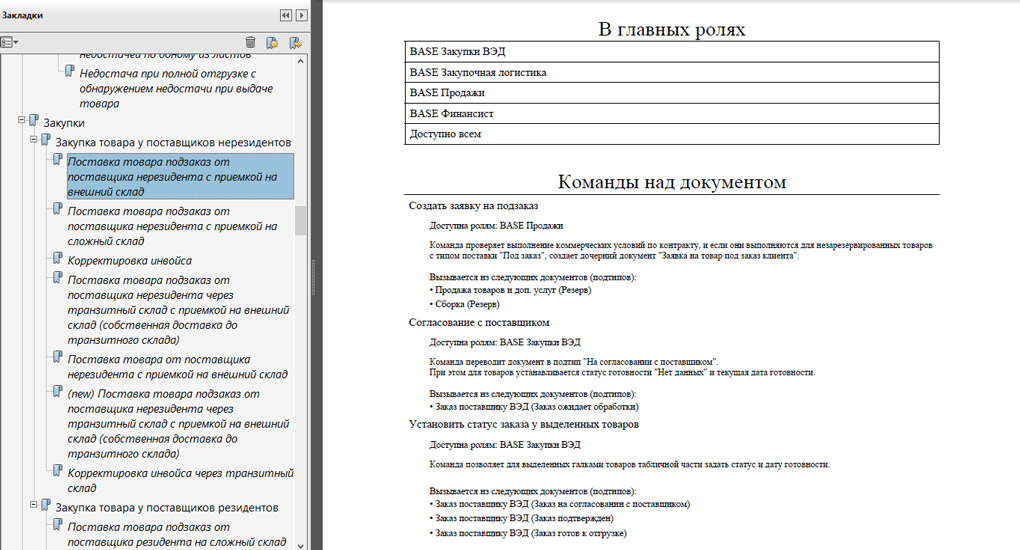 Fig. 1.0 General view of a simple business process diagram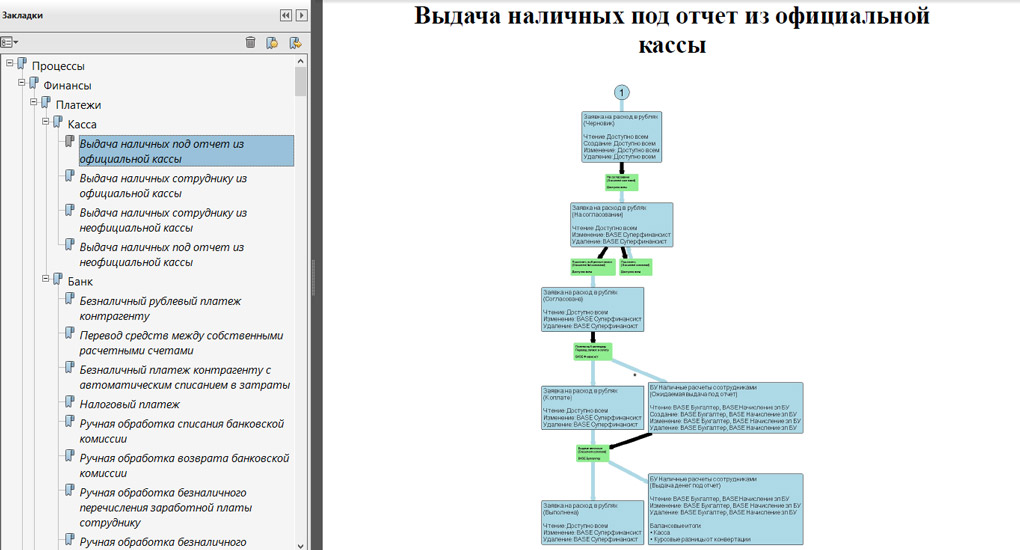 Fig. 1.1. Roles involved in the process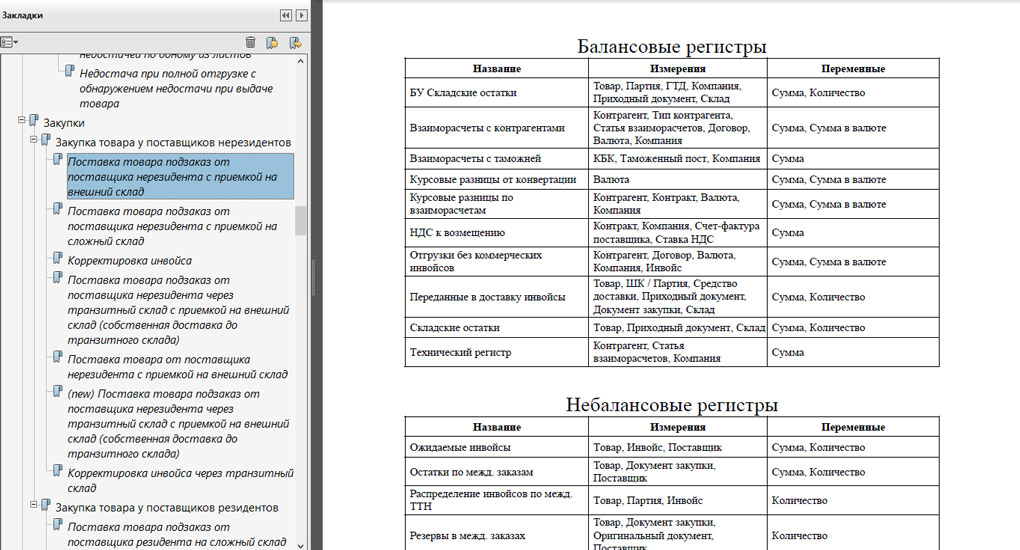 Fig. 1.2 What tools are used throughout the process with a description of the tool, where they can be run from and who has rights to it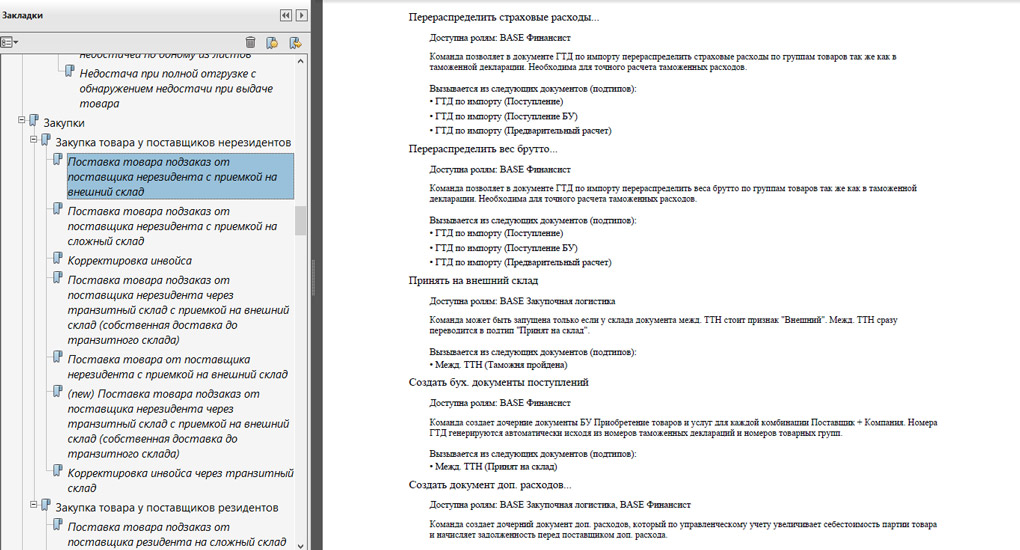 Fig. 1.3 Which mface registers are involved in a zipchain events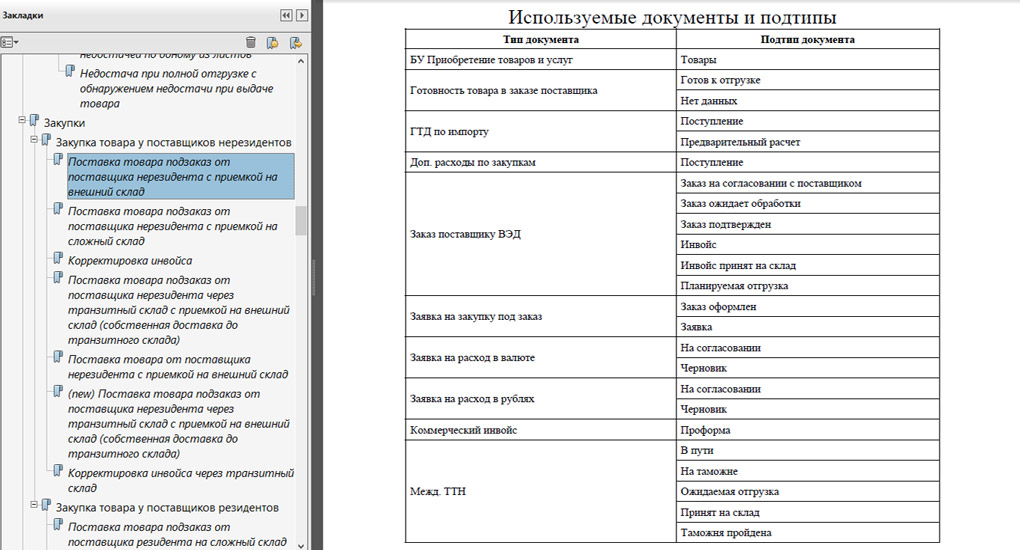 Fig. 1.4 Which documents and their statuses are involved in the process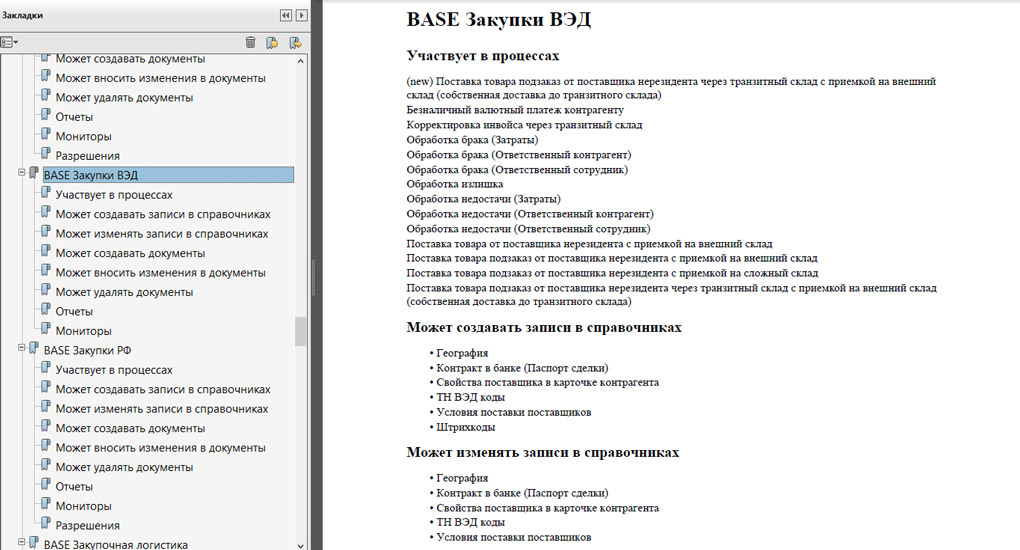 Fig. 1.5 Description of the role model: in which processes the role is involved, and to which it has rights
By itself, a complete fact basis for regular quality circles (kaizen in japanese management).
Diagrams for the business processes of a certain unit, whose employees are preparing for a circle, are printed on a plotter and hung on the wall.
Next — markers, debates and brainstorming.
In contrast to the common practice of business process management (drawing irrelevant handy pictures, weakly coupled to the actual state of the company) equally beautiful diagrams, which dia$par generates automatically, are guaranteed to be a relevant reflection of how business actually works.
These diagrams really allow you to see the process in its true form — entirety, and to involve in to the critical analysis many times more brains — moreover the brains of employees reliably versed in the subject area, rather than external "BPM-consultants".
Examples of diagrams of real business processes of the dia$par operator
(generated automatically)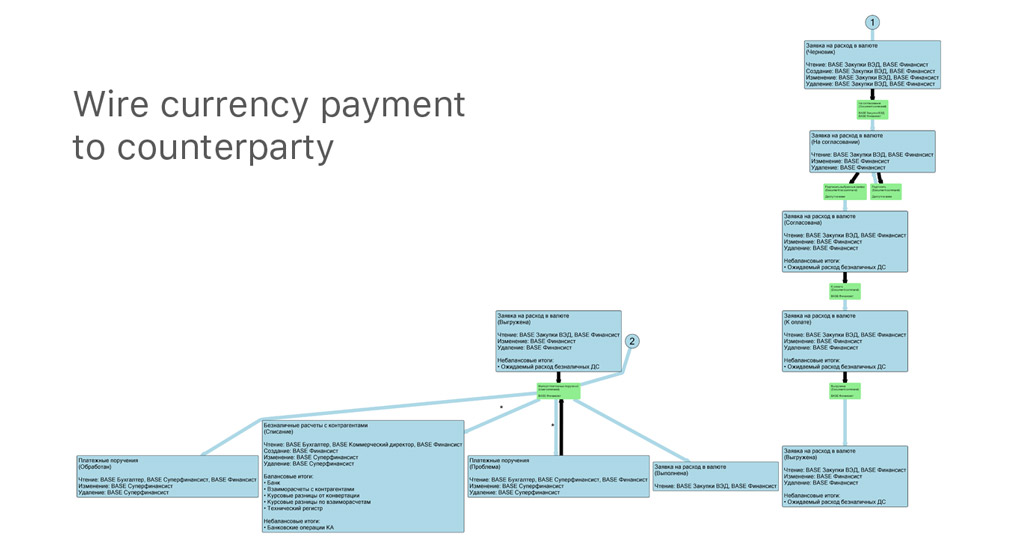 Fig. 2.0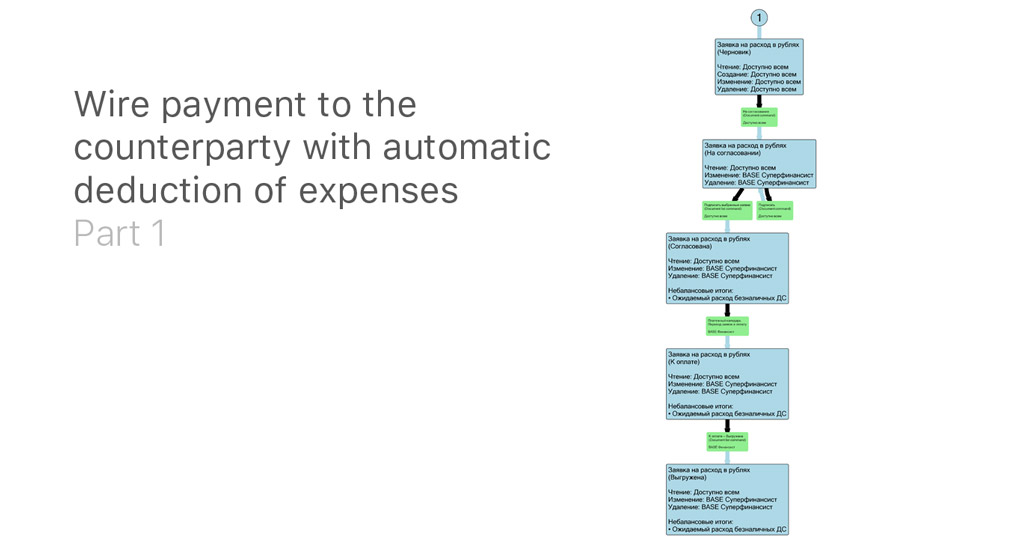 Fig. 2.1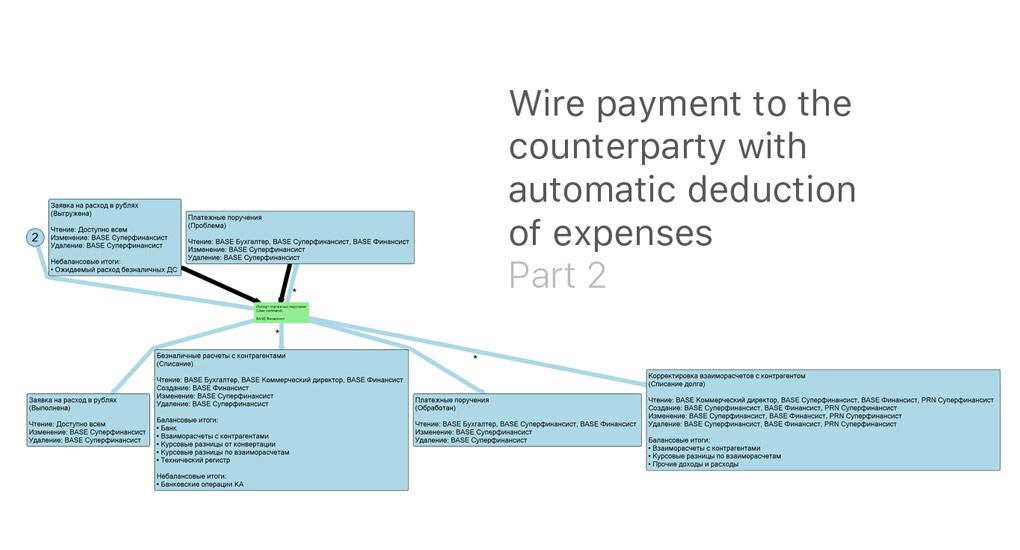 Fig. 2.2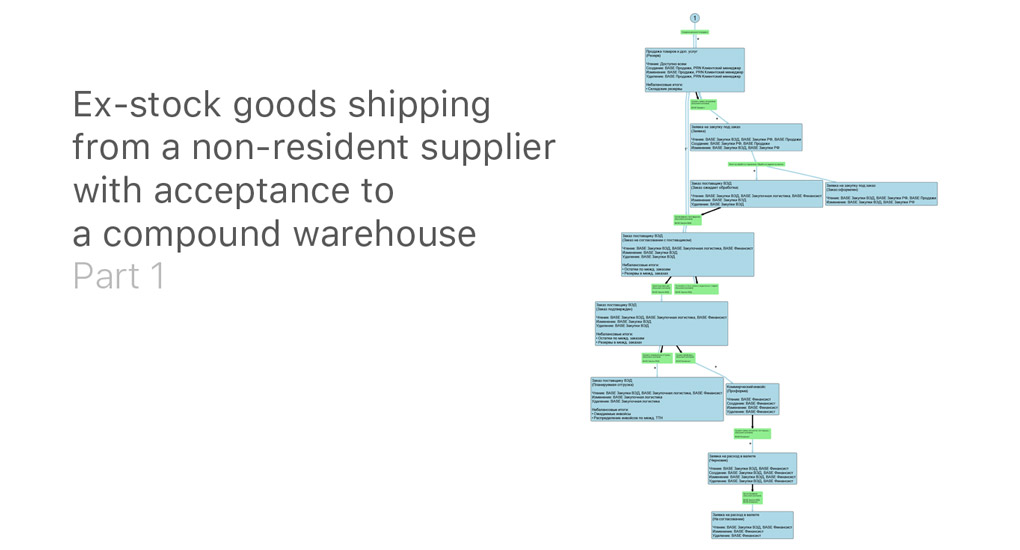 Fig. 2.3

Fig. 2.4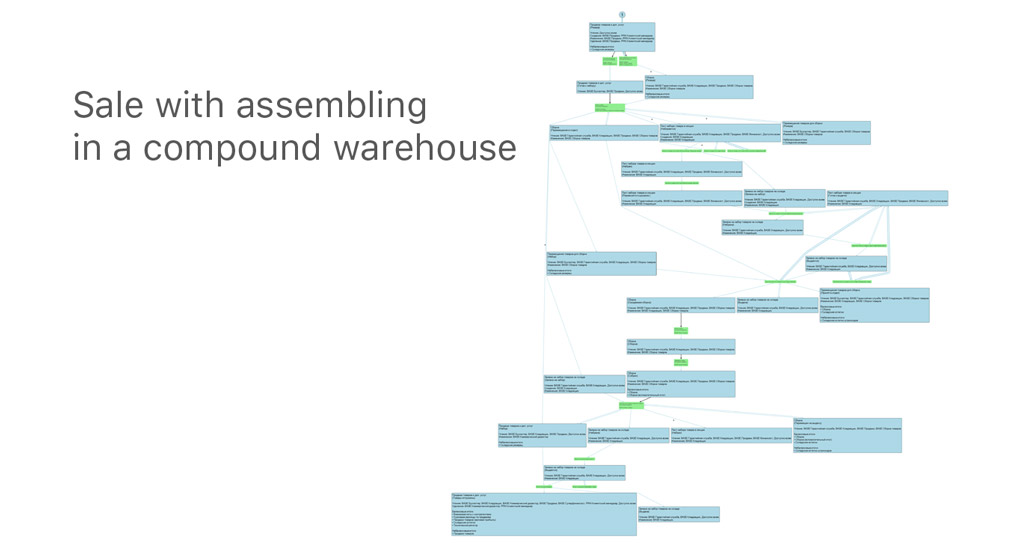 Fig. 2.5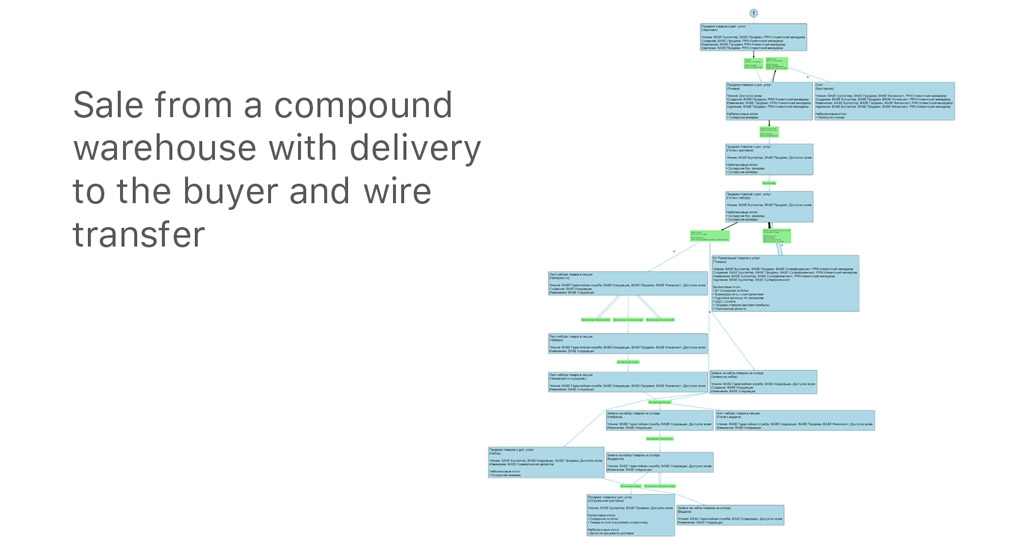 Fig. 2.6

However discovering optimization ways and reserves is not enough.
Found solutions must be implemented — at which abstract "strategic visions" in ERP organizations always stumble.
After all, there are simply no universally effective tools for synchronizing reality with the good wishes of top management (excluding the rarest particular leaders).
Dreams of top management are freestanding and company actually acts in its own way and the emptiness between them.
This problem never appear for the companies managed by dia$par .