Ulmart detects at its hub near Moscow in an average month. The personnel accountable for the assets are held responsible for them. Accounting, control and loss prevention are built into the business processes.
Do they steal? 99% of companies, doing business in the CIS countries, will answer "yes". Moreover, 99.9% will answer "oh yes, they [censored] do!" The rest are just living in a cloud-cuckoo-land.
Wining about mentality or living in a dream is counterproductive; so we need to cope. Our practice of implementations shows that we what? Right, that "we know how to do it".
In December, 2014, disparity of goods (i.e. a simultaneous surplus and shortage of products) at the Ulmart logistics hub in Domodedovo amounted 200K US dollars, direct losses from which totaled over 3K (however, the personnel financially responsible for losses is charged this entire amount).
All this while the hub housed over 40 000 SKUs and almost a million pieces that cost almost $ 31mln in purchasing prices.
This admirable (especially, for our snow Nigeria ) result could be achieved due to introduction of walkthroughs for every product transaction. Warehouse employees carry Wi-Fi PDAs that show their current tasks directly from the dia$par.Matrix?.
Using PDAs they can receive products, read barcodes. Then information on the actually received list of items and their quantity is automatically sent over to the supplier (with no need to run anywhere to do that). Next, the received products are distributed to the sections, where they are again scanned and stored according to the established procedure.
Every logistic micro-operation is under control:
is it really that very product?
does the quantity in the document equal the actual quantity?
The dia$par would simply not allow the operator to make a mistake: "another product is requested!"
Storing a product on a shelf in a section means that at the same time it becomes available for sale, much to the delight of millions of Ulmart.ru customers?.
Using wireless PDAs at the warehouse allows to SIGNIFICANTLY lower the level of requirements for warehouse employees (in reality, companies that tried recruiting qualified workforce know how difficult and EXPENSIVE it is):
look at the screen — it has everything you have to do;
if it shows what to "take" — just scan the product it is showing.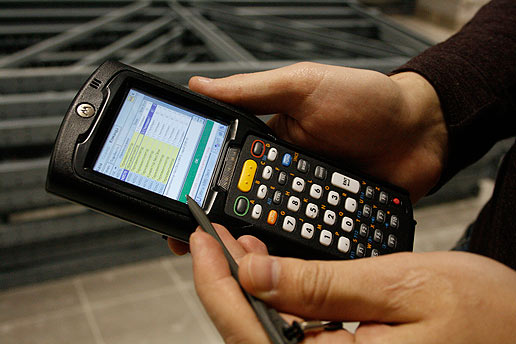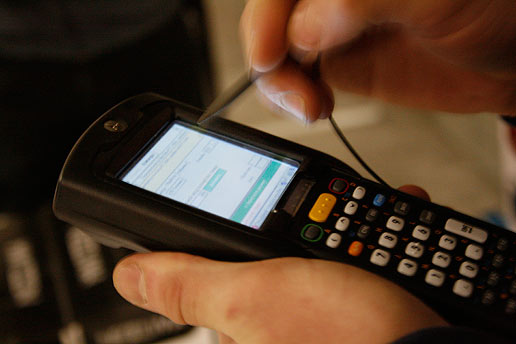 Training on how to work with PDAs takes no longer than 5 minutes — it's that simple. In other words, after implementing the right logistics, the warehouse personnel will decrease in number, will do things faster and cost less (in total) to the employer
To speed up the process a bit more without violating safety regulations, Ulmart uses a flow algorithm for acceptance of goods. It allows making items available for sale without waiting for the whole truck to be unloaded.
The first items can be bought only 10 minutes after the shipment has started to be unloaded. Hardly half of the goods from a supplier have been accepted according to the receipts note, when first pallets are already being sold. That's what we call lean trading.
This is what the logistic business process looks like in a retail store.
The cashier scans the barcode on a payment receipt; financial totals show up on screen and are voiced to the customer. There's no manual input, everything is automated: scan-total-change, enter. The warehouse instantly generates tasks for relevant sections to collect the items in required quantities.
While the purchased items are being collected at the warehouse, the client can see a progress bar on an LED screen, showing the current status of his order.
When the status is "100%", it means the order has been picked up and ready for dispatch.
The customer is invited to collect them. No more than 10 minutes to get it all done.
In 2014 with the help of the dia$par, Ulmart processed up to 10 000 trucks of goods of such diversity (in size, category, weight and price) that could rarely been found in Russian trade practice: fridges to processors, children's toys to professional multi-thousand-dollar photo lenses, electronic cigarettes to motherboards for office PBXs.